Special Lecture on the Intergenerational Mobility and Inequality
Overview
Special Lecture on the Intergenerational Mobility and Inequality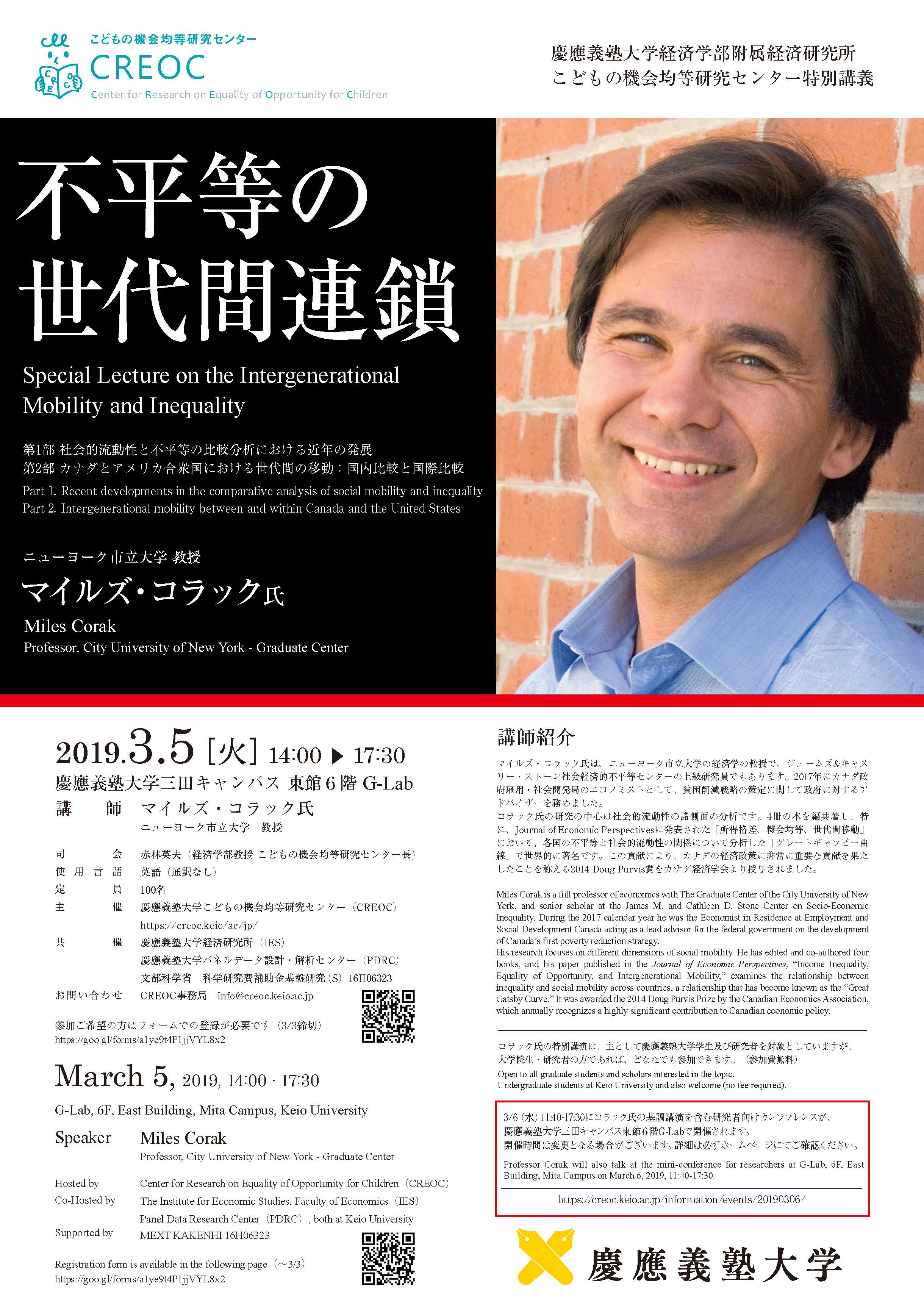 Date and time:March 5, 2019, 14:00-17:30 (Registrations open 13:30)
Part 1 14: 15-15:30
"Recent developments in the comparative analysis of social mobility and inequality"
Part 2 16:00-17:15
"Intergenerational mobility between and within Canada and the United States"
※Each part may consist of 60 min talk followed by 15 min Q&A

Place:G-Lab, 6th floor, East Building, Mita Campus
Campus Map(No.3)
Speaker:Miles Corak Professor of CUNY-Graduate Center
Chair:Hideo Akabayashi
Professor, Keio University and CREOC director

Language:English
Entry fee:Free
Target:Open to all students and scholars interested in the topic. Undergraduate student at Keio University are also welcome.
Registration form is available in the following page (~3/3).
 
Inquiries:CREOC office info@creoc.keio.ac.jp
Profile:Miles Corak is a full professor of economics with The Graduate Center of the City University of New York, and senior scholar at the James M. and Cathleen D. Stone Center on Socio-Economic Inequality. During the 2017 calendar year he was the Economist in Residence at Employment and Social Development Canada acting as a lead advisor for the federal government on the development of Canada's first poverty reduction strategy. His research focuses on different dimensions of social mobility. He has edited and co-authored four books, and his paper published in the Journal of Economic Perspectives, "Income Inequality, Equality of Opportunity, and Intergenerational Mobility," examines the relationship between inequality and social mobility across countries, a relationship that has become known as the "Great Gatsby Curve." It was awarded the 2014 Doug Purvis Prize by the Canadian Economics Association, which annually recognizes a highly significant contribution to Canadian economic policy.
Event Reports
Please see this page (IES website) for the event reports.